Since this is a personal website, I always wanted to chat with visitors and make new friends. I never knew that this is possible until...

In a day of January 2012 I entered in a website where a chat window popped up, I replied, accusing the website admin to be a robot (before, I saw chats popping up around some websites, all proved to be robots, I had a habit to reply at any chat pop-up to see how the robot answer).

So I installed SnapEngage on my website too. Since May 2012 I switched on Zopim because is better.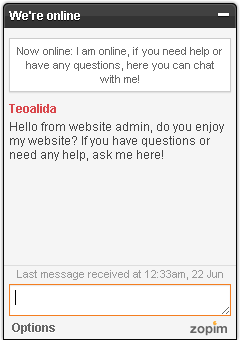 Most people ignore the chat at all, some understand how it works and we had serious chat, while others asked me "Is this automated?" or "Are you a fucking robot?".

so... How it works:
As long as I am online, Zopim send a pre-defined message (greeting) to all visitors, after a certain delay. When you type a message, either reply at greeting, either start a chat by you own, got alert that I have a chat request only now and I can talk with you. Zopim also allow me to send manual messages to each visitor from visitor list, but I do this only when I am bored.
The automatic greeting save my time, no longer need to watch visitor list. That's why you may see repeating messages if you visit my website multiple times. Are you against automation?
Once you reply to the automatic greeting, I receive a message that I have a chat request and the chat became HUMAN-to-HUMAN, no robot!
How I know who is who?
One returning visitor asked me this question.
If you are outside of Singapore, I can guess that you are, because when someone start a chat I can see his country.
I have over 100 daily visitors from Singapore, identifying you may be possible but too hard to worth trying. So I treat every chat request anonymously as a new visitor, if you are a returning visitor I appreciate if you specify this.
A FUNNY situation was whe I was contacted in same day by multiple students of same school, I though that all chat request were from a single person, until someone said "I have no idea what are you talking about"!
In both cases, if you requested something from me, don't just sit on website waiting for me to contact you, please open chat window and alert me! I don't have time to watch the visitors in real time to see when you are here.
SnapEngage vs Zopim review
Such website live chats are very useful if you sell things or offer services via website, like in case of me, designing buildings or other kind of drawings at request.
SnapEngage doesn't allow me to manually start a chat with a certain visitor, I can only set a proactive message on all pages (or different message on certain pages, at different delays). To talk is necessary the visitor to reply when the chat pop-up (automatic greeting) or to open chat by himself.
The chat window is big and many people tends to close the window. Some asked me for help and closed the window in 3 seconds without being aware that this disconnect us from chat
Zopim have a minimize button rather than a close button, they can click it to free screen space, I can still send messages to visitors as long as they are on my website. I can even manually send custom messages to any of visitors, but most time I don't have time to watch the visitors list, so I rely on the automatic greeting.
Zopim allows advanced configuration of proactive message, different greetings based by visitor country, number of visits, google search strings, etc.
SnapEngage have cookie-based ban, I can ban annoying visitors only while chatting, then anyone can unban itself by deleting cookies. Zopim have IP banning, I can ban any IP anytime.
Another advantage of Zopim is that if offers unlimited chats per month for free acounts, the single limitation is 2 chats in same time, while SnapEngage is limited to 30 chats per month.
For business, Zopim also have better prices, for example $39 for 5 agents, compared with SnapEngage $49 for 4 agents.
Zopim changed, increased the prices since 9 August 2012, now is priced above concurrent services.
But I still recommend Zopim!  No other chat service can beat Zopim in terms of features!
Funny-stupid chat with an idiot
Still believing that I am a robot after 5 min of talking. He disconnected while I was typing, explaining him how it works. Maybe I shall give a link, to check www.snapengage.com, maybe he would understand.
Real robots reply certain messages based by certain words.
How to identify robots: write single-word messages with bad grammar (robots would not understand), or repeat same question (robots would repeat too).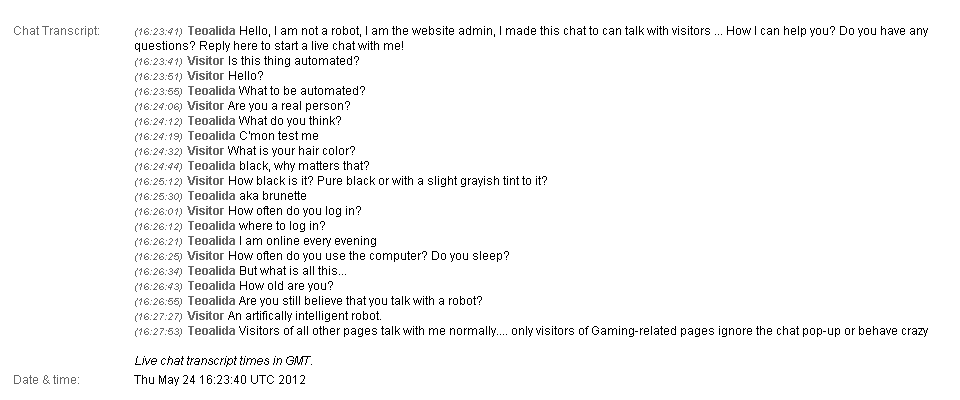 Another funny case, he used the chat expecting a robot answer!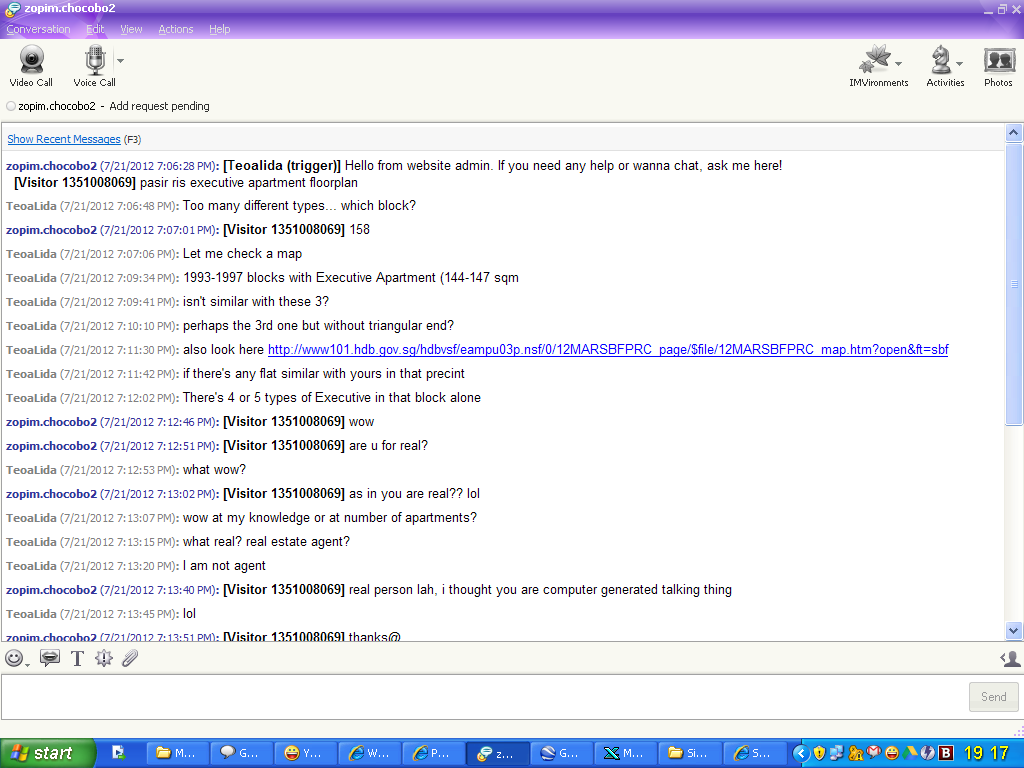 A visitors "is back" without telling me who is, causing a funny situation!